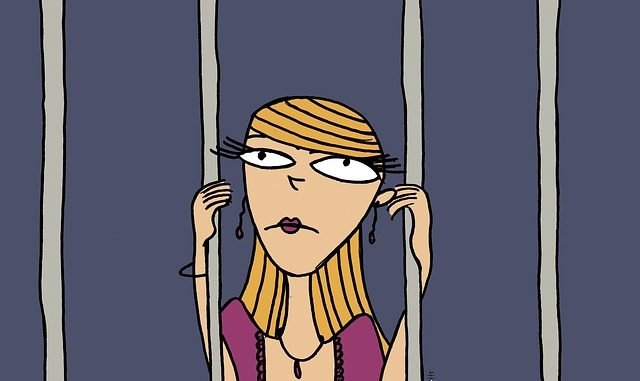 Spiritual Meaning Of Dream About Prison/Jail (Prov 26:27)
Psalm 126: 1 – 4: "When the Lord turned again the captivity of Zion, we were like them that dream. Then was our mouth filled with laughter, and our tongue with singing: then said they among the heathen, The Lord hath done great things for them. The Lord hath done great things for us; whereof we are glad. Turn again our captivity, O Lord, as the streams in the south."
Psalm 53: 6: "Oh that the salvation of Israel were come out of Zion! When God bringeth back the captivity of his people, Jacob shall rejoice, and Israel shall be glad." Psalm 68: 18: "Thou hast ascended on high, thou hast led captivity captive: thou hast received gifts for men: yea, for the rebellious also, that the Lord God might dwell among them.
Isaiah 42:7: To open the blind eyes, to bring out the prisoners from the prison, and them that sit in darkness out of the prison house.
DREAM ABOUT PRISON/JAIL
Prison is a place where freedom of movement or will is prohibited. If you dream of prison, this usually indicates restriction, hinderance and stumbling. A person who is kept in jail cannot see the outside and achieve destiny. This is one of the most severe dream attacks. To see yourself in the prison dream, it represent a symbol of foundational power assigned against your progress. The fact that you see yourself in prison denotes the ties which bind you from achieving your true potential. If you were jail based on false accusation, then it shows the enemy is trying to bring problems to you. If you happens to be in prison, there are a high chances that you will struggle in pain. 
When you dream and find yourself in the prison, jail without committing any offence, It indicates the enemies are planning a serious police case that will land you in prison or jail.
Another way that the enemy wants to cage your life and hinder your progress; To be precise, do not  have any fight or confrontation with anyone or commit any offence in the real life. These wicked spirits do not want people to enjoy God's blessings in their life, marriage and career.
Dreaming about the prison or jail is a sign of satanic imprisonment and manipulation. Because these powers uses this dream to cause misfortune and stagnation in the lives of their victims.
They will allow you to work and pray hard but when the time for God to remember you, they quickly initiate this dream to bring problems to you.
The bad spirit from the father's house or mother's house can also be responsible for this terrible bondage by putting your dreams or visions to a halt. But if you dream and find yourself stealing and went to jail or prison, means satan wants to disgrace you completely and bring shame to you and your family.
This is where people that love and ready to help you begins to close their chapter for you. I challenge you to pray until God takes you out from the pit of darkness. You must learn the lesson that God wants you to learn in this dream.
God would not reveal this dream  until you have learnt these lessons. This is to ensure that you do not go back into commit an offence and He does not want you to lose what He has helped you to restore.
You may be in a particular situation, which is not making you happy, perhaps the lesson God wants you to learn is that of patience. The Bible says that some people, by faith and patience won the promises (Hebrews 10: 36).
If some people were more patient, their marriages would still have been steady now. May be that is what God wanted them to learn.
HOW TO OVERCOME PRISON/JAIL
1. Do not give up.
2. Remember what God has done for you and be grateful to Him.
3. Remove fear.
4. Reject every idol and charm.
5. Fill your life with the words of God.
6. Confess His words.
7. Know for sure that the enemies of man cannot be begged to leave him alone. What they understand is absolute defeat. You cannot appeal to the devil. Jesus crushed the head of the serpent.
INSTRUCTION: Take 3 days fasting and prayers from 6-6pm. Soak yourself with some Psalm verses such as Ps 35, Ps 27, Ps 118;16-29
PRAYER POINTS
1. I remove myself from every remote -controlling power contrary to the will of God, in the name of Jesus.
2. I decree freedom into every area of captivity in my life, in Jesus' name.
3. You captivity, I command you to be captive, in Jesus' name.
4. Captivity of my father's house and mother's house, release me, in Jesus' name.
5. Anything in my life that the power of captivity is using against me, come out by fire, in the name of Jesus.
6. I break and loose myself from every bondage of slavery, in the name of Jesus.
7. I terminate every journey into captivity, in the name of Jesus.
8. Prison from my father's house and mother's house, assigned to lock me up in stagnancy, break by fire, in the name of Jesus.
9. I break every chain of slavery, in the name of Jesus.
10. Every enemy of my freedom, die, in the name of Jesus.
11. Every court of appeal overturning my miracles, scatter, in Jesus name.
12. Every bondage of death and freedom, against me, be shattered, in Jesus name.
13. Every power assigned to introduce problems to me, in the name of Jesus.